Dedicated area for flying unmanned aircraft launched at Pandan Reservoir
July 17, 2022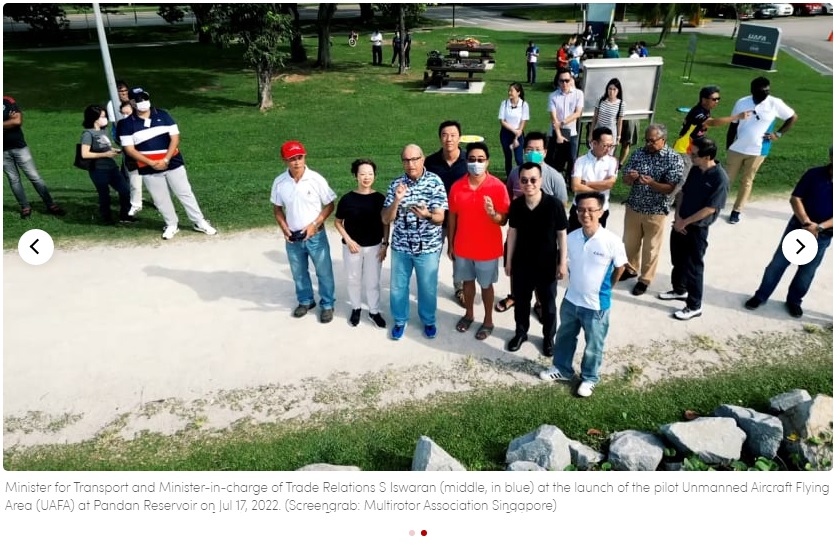 SINGAPORE: A dedicated area for the flying of unmanned aircraft was launched at Pandan Reservoir by Minister for Transport and Minister-in-charge of Trade Relations S Iswaran on Sunday (Jul 17).
The pilot Unmanned Aircraft Flying Area (UAFA) at Pandan Reservoir "provides a community space for unmanned aircraft enthusiasts to gather and interact while facilitating and supporting safe and responsible recreational unmanned aircraft operations", the Civil Aviation Authority of Singapore (CAAS) said in a media release.
Examples of unmanned aircraft include radio-controlled aircraft, drones and remote-controlled kites.
The establishment of the UAFA was a key recommendation of the Unmanned Aircraft Systems Advisory Panel.
"The implementation of the recommendation and the setting up of the UAFA at Pandan Reservoir is a multi-agency effort involving the CAAS, national water agency PUB, Urban Redevelopment Authority (URA) and the Singapore Land Authority (SLA)," said CAAS.
The UAFA at Pandan Reservoir provides 16ha of flying area over the reservoir's waters with basic amenities such as tables and benches to provide operators with clean and comfortable places to sit and set up their unmanned aircraft.
The reservoir itself measures 176ha.
Signs with information on unmanned aircraft regulations and on-site operating guidelines have been put up in the area to "raise awareness and educate enthusiasts on safe flying and good practices" in sharing the community space with other reservoir users, added CAAS.
Feather flags and water buoys have also been set up to mark the boundaries of the flying area, which is located at least 400m away from the nearest residential blocks to safeguard the privacy and security of residents in those blocks.
The UAFA will also host regular programmes and workshops for community outreach and to educate unmanned aircraft enthusiasts on safe and responsible flying.
The operating hours for the pilot UAFA are from 9am to 6pm daily, and interested members of the public can join the Pandan Reservoir UAFA community Telegram chat "UA Flying Areas" to receive regular updates and important notices regarding the site. The pilot will run until Jan 2023, after which CAAS will review the scheme's results taking into account user and public feedback.
Any unmanned aircraft weighing more than 250g must be registered. As of Jun 30, 16,095 unmanned aircraft have been registered, with 273 valid unmanned aircraft operator permit holders, according to figures provided by CAAS.
In the last year, from Jul 1, 2021 to June 30, 2022, the civil aviation authority took 49 enforcement actions for non-compliance with unmanned aircraft regulations.
Mr Han Kok Juan, director-general of CAAS, said that "the Unmanned Aircraft Flying Area will help build a safe and responsible flying culture in Singapore as recreational flying becomes more popular", adding that "this is particularly important given our dense urban landscape and competing airspace uses".
Mr Han noted that the UAFA had been well-received prior to its official launch.
"We are very encouraged by the positive feedback we have received from residents and unmanned aircraft enthusiasts who participated in our pre-launch on-site workshops and hobbyist club trials," he said.
"They have helped us validate and make further refinements to the pilot site and our educational programmes to make them more accessible and attractive to users."
Source: CNA/fh(kg)